Mention the Snake River to a fly fisherman and he instantly conjures up visions of aggressive Cutthroats along the South Fork, Henry's Fork, or below Jackson Lake. From it's beginnings in the Thorofare outside of Yellowstone National Park, where one can literally straddle the river, to its confluence with the Columbia River in Washington State, adventure awaits anyone who walks its banks. Discovered by Lewis and Clark in 1805, "The River" has been sought by fisherman, white water rafters, hunters, and some crazy dude who thought he could jump over it on his motorcycle. However, mention the Snake River to a waterfowler and visions of southward bound ducks and geese take over. There is a magic time each waterfowl season when all of the flat water, ponds, and lakes in northern Idaho freeze, forcing waterfowl to find the only open water; the Snake River. If you time your hunts correctly, the river is full.
Dennis and I took off long before any sane duck hunter's alarm had sounded. It was snowing, our first big storm of the year. We planned our arrival at the boat dock to coincide with shooting hours, making it just light enough to navigate without worry of hitting the many submerged stumps. Our fears became reality when we crossed the bridge; the river had frozen across, from bank to bank. There was only a ¼ mile of open water down river from the boat dock. Downriver? Downriver is terrible hunting. We didn't drive this far just to turn around, so we pushed off and headed - downriver. We found bird droppings on a point of ice at the apex of a bend in the river. We went to work setting up shells, floaters, and full bodies. We broke away large sheets of ice and sent them downriver. "The Spread" looked good. We took some time and admired our handy work. The wind by now was starting to blow at a pretty good clip. Shells were sliding across the ice. We were hunkered down in our layout blinds to stay out of the bitter north wind. Thirty minutes later, Dennis spotted flock of geese upriver (I know, we were downriver…). I gave them a few whips of the flag and Dennis sent out some hail calls. As soon as the lead bird saw us the flock headed straight "downriver". They made a low pass with the wind in their tails, started double clucking, and circled to land into the wind. I had lost sight of them when Dennis called the shot. I sat up just as he let go with his first round. The whole sky fell down…. No really, I think he dropped 4 birds in one shot. We both emptied out and ran to the edge of the ice to grab the birds we could before the current took them out of reach. We started counting. I only shot 3 times. Dennis only shot 3 times. There were 8 dead birds in the river. We both looked at each other and laughed. We were done. We had bagged out on geese with the first flight. We actually spent more time setting up the decoys than we did hunting. There was nothing left to do but a take a few pictures and head for home.
We may never duplicate that hunt. We may never take 6 shots on geese and bag 8 birds. But then again, this was the Snake River, and magic happens to all those who hunt or fish its waters.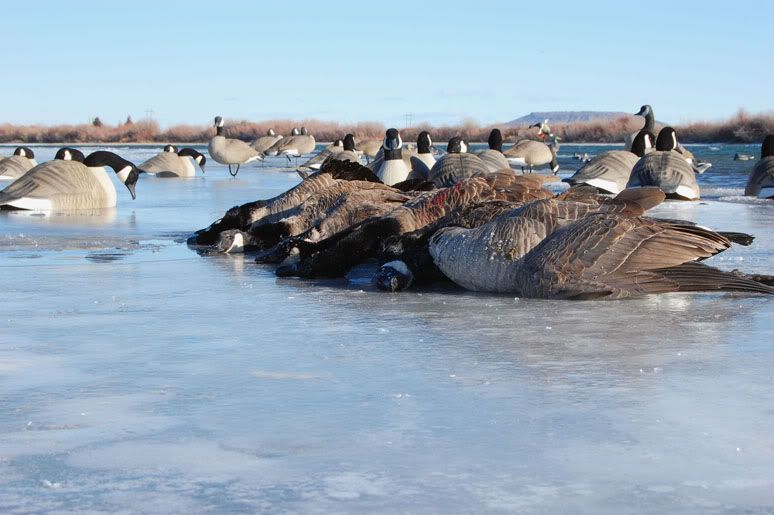 I usually don't like to post "pile pics" of a bunch of dead birds, but this hunt was one for the books, and I couldn't resist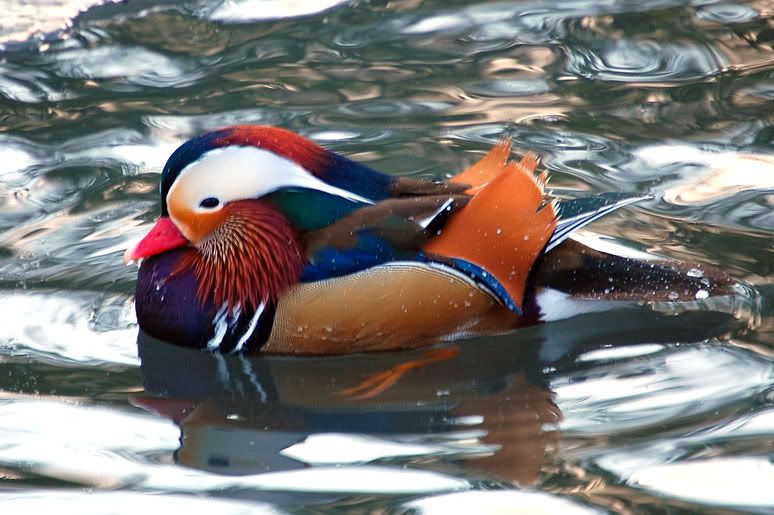 Pics from our trip to the zoo